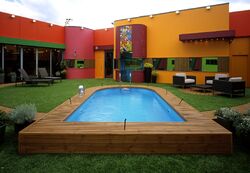 The Big Brother House is a virtual place where the houseguests stay in during a season of the Big Brother ORG.
It consists of:
The Season page in the Big Brother ORG Wiki site.
The Season's Forum page in the Big Brother ORG Wiki site.
A Secret Facebook Group with all the houseguests.
A "Big Brother House" Facebook Group chat with all of the remaining houseguests and hosts.
A "Diary Room" Facebook Group Chat with a houseguest and the hosts.
A Viewing Lounge for the audience.
A Jury House Facebook Group Chat with the members of the Jury.

The Big Brother house is where they are informed of events happening in the game. Events such as competitions, results, twists, etc. are posted in a forum in the Big Brother Wikia site.
After a houseguest is evicted, they are removed from the "Big Brother House" Group chat and the Secret Facebook Group. Evicted houseguests are also not allowed to post comments in the forum page until the season is over.
Big Brother House Themes
Edit