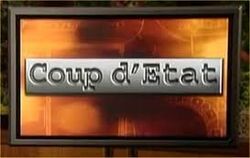 The Coup d'Etat is a power given to a houseguest. The holder of the Coup d'Etat has the power to overthrow the Head of Household. They can change the nominations made by the previous HOH and name their own replacement nominees. However, they may not choose the current HOH or POV Holder. It can only be activated during eviction night, before casting votes to evict someone.
In the event that a Coup d'Etat Holder is nominated for eviction and activates the power, he/she is automatically removed from the block but must name a replacement nominee.
It shares similarities to the Diamond Power of Veto. However, the holder can remove two nominees and replace them with two other Houseguests (minus the HOH and POV Holder), as opposed to the Diamond Power of Veto, which can only remove one nominee and replace them with another HouseGuest.
Big Brother 1
Edit

The Coup d'Etat is the first twist introduced in the first season of Big Brother ORG Wiki and was announced during the first week. It came in a form of a key card, which is hidden inside the virtual Big Brother House. It can be obtained by guessing the coordinates of its location in a grid map. Guesses for the coordinates of the Coup d'Etat Key Card can only be done once every 12 hours.
If the Coup d'Etat Key card is found, its status is not going to be announced to the other houseguests. However, if another houseguest guessed the coordinates correctly after it is found, they are told that it's already been obtained. The holder of the key card has the luxury of keeping this a secret or sharing the information with the other houseguests. It expires after the Final 6.
Yap found the Coup d'Etat Key card however, he did not use it.
Big Brother 9
Edit
The Coup d'Etat returned as one of the Gadgets in the Big Brother House. William found it and used it in Week 7. He took himself off the block (which was himself and Tate) and he was replaced with Sean. Tate was evicted that week.
Coup d'Etat Holders
Edit