NotJerby is a fictitious character created for the Big Brother ORG wiki. He is known to be a troll or an annoyance to the houseguests, similar to the Zingbot 3000 of the Big Brother show.
NotJerby started out as a joke when he sent in an application as a houseguest of the first season of Big Brother ORG wiki. People found it so amusing that the moderators decided to incorporate him in one way or another into the game.
Appearances
Edit
Big Brother 1
Edit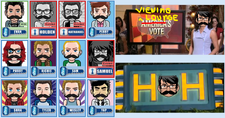 NotJerby appeared during the fourth week of the first season of the Big Brother ORG wiki. The week was dedicated to him, hence it was called "NotJerby Week". He entered the house as a guest host and challenges for that week were all related to him. He tried to annoy the houseguests but a stipulation was made that if one of the houseguests remove him from the Big Brother House Facebook chat, a penalty will be given to the said houseguest. Some of his antics were including his face in the images used in the forum threads and adding mustaches to the mangatars in the Memory Wall.